American Worker Locked Out of the American Dream
Symbolic of millions who lost their jobs- (Local 169 Steelworkers Locked out for over 3 yrs.)
The American Worker - Locked out of the American Dream artwork by Ray Tapajna is a symbol for all who lost their jobs in recent years. Tariffs were taken off products and put on the workers as if they are the commodity to be traded.
Here, it shows the Steelworkers from Local 169 in Mansfield Ohio who are bearing their cross being locked out of their jobs since 1999. The company hired replacement workers and a company police force to enforce the lock out. Similar lockouts have been more numerous in recent years without any reponse from government. Some years ago workers were locked out of a major news paper. Some took part-time jobs to get them through the ordeal. Finally after settling the dispute, workers went back taking a deep cut and many who were working part time had to keep these jobs too just to make up for what they lost in pay on their regular job.
The Clinton Years- The American Dream Reversed
While a statistical prosperity was reported, millions lost their jobs
The Clinton Years - The American Dream Reversed artwork by Ray Tapajna is currently number 1 in terms of hits at worldwide graphics forum at http://www.graphicsforum.com/public/list.asp?id=1247 in terms of hits worldwide. It is symbolic of the millions who have lost thier jobs in recent years while a statistical prosperity was being touted. The USA went through the most massive dislocation of jobs in its history during the Clinton years and continued on when Bush took office. It was a bubble economy during the Clinton years with a paper stock economy that fostered the firing of workers instead of hiring workers. A working poor class was created in the USA while a destitute working class was created outside the USA. Both government and corporations cooked their books. Soon after the stock market loss trillions of dollars in value with many losing everything. The biggest lie during the Clinton years in the land of "is" was not about Monica but it was about the economy. In 1998, even about 250,000 in high tech alone lost their jobs. Clinton used "Wag the Dog" wars to hide our economic terror and Bush followed his example. For other views of this art see http://www.clintonart.filetap.com or http://arklineart.fotopages.com and read top newpaper story featuring the American Dream is Burning at http://tapsnewstory.filetap.com Free Trade now has over a ten year history of failures while the freetraders call for more.
The American Dream is Burning
When production is moved to cheaper labor markets, burnt out communities & societies are left behind
- - - - - - - - - - - - - - - - - - - - - - - - - - - - - - - - - - - - - - - - - - - - - - - - - - - The AMERICAN DREAM IS BURNING art by Ray Tapajna > is symbolic of all the empty factories and burnt out communities left behind when production is moved from place to place anywhere in the world based on the cheapest labor markets. The American workers is "commoditised" being put on a global block as just another commodity instead of a human being with human dignity to compete with the lowest common denominator of wage slave labor. Tariffs are taken off products and in essence put on the workers themselves. On the Space Available sign is the White House Phone No. (202-456-1441) for all to call to help stop this new slave trade- the wage slave trade.
The Cross of 9/11 - The Cross of Rubble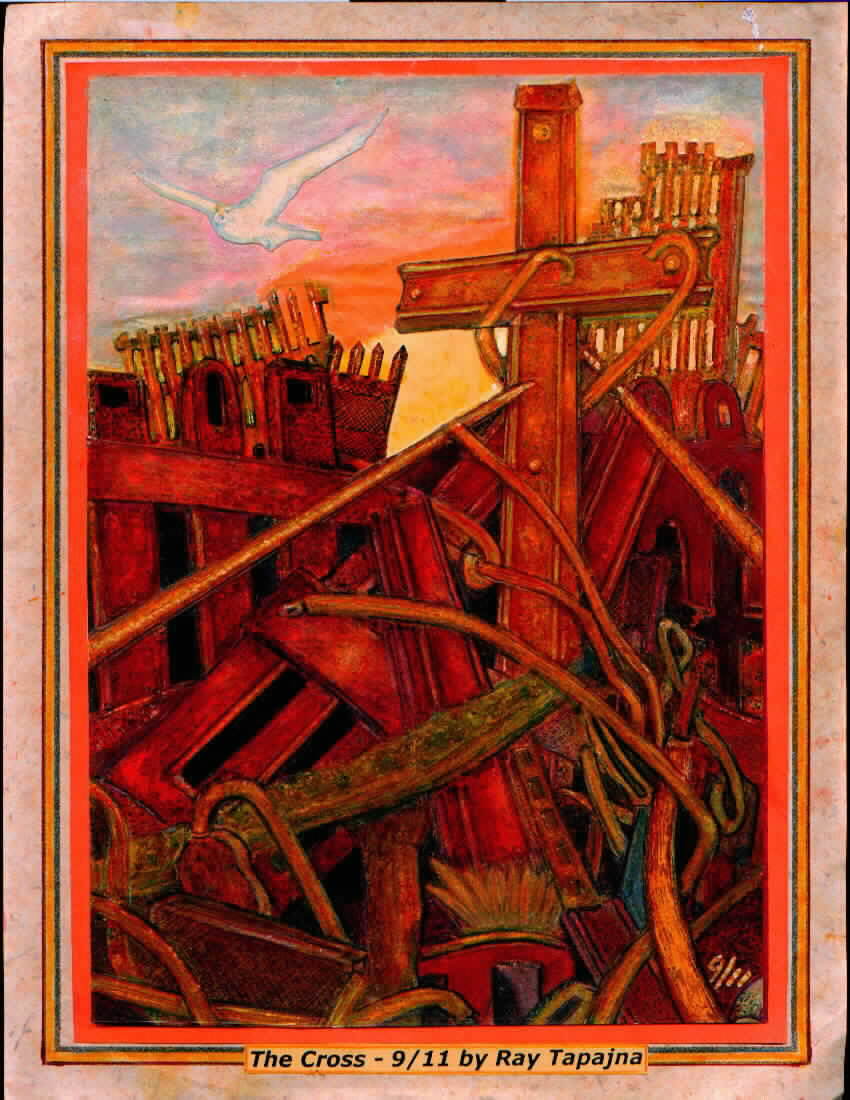 In memory of all who bore their cross 9/11 and all the heroes who followed.